En un artículo anterior comenté sobre cómo una de las grandes dificultades es el uso del pasado. Por lo complejo y por lo diferente que es respecto de otros idiomas, a menudo se convierte en una gran dificultad.
Así que te recomiendo tener una estrategia: Parte de lo sencillo, los tiempos simples (sólo un verbo), luego los compuestos más usuales y dejar para el final los tiempos menos utilizados.
Así que partimos con lo más básico: pasados simples del Modo indicativo
Existen varias maneras de llamarlos, para mí ésta es la más clara:
Pretérito perfecto (simple) y pretérito imperfecto
Aquí perfecto significa terminado, realizado.
Primero hay que familiarizarse con las formas, fijarse en qué se diferencian. Echemos una mirada a algunos verbos regulares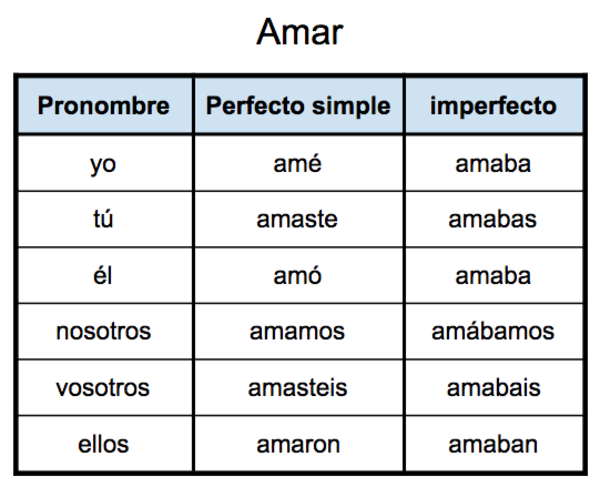 Lo primero que notamos en este verbo, que pertenece a la 1ª conjugación (verbos terminados en
-ar
) es que el imperfecto siempre tiene las letras '
aba
'. Esto te sirve para memorizarlo, para diferenciarlo del perfecto simple. Veamos otro verbo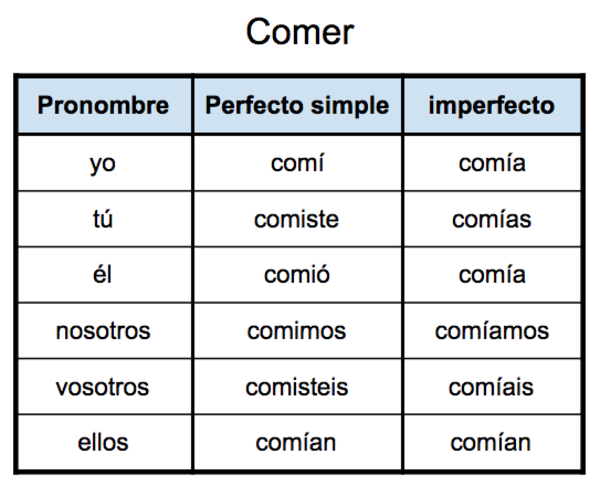 En este verbo de la 2ª conjugación (verbos terminados en -
er
) pasa algo parecido: en el imperfecto, se repiten las letras '
ía
'. Y es bueno saber que la tercera conjugación (verbos terminados en
-ir
, como vivir) en estos tiempos se conjugan igual.
Un consejo para la memorización es pronunciar correctamente la acentuación, más aún, enfatizarla. De este modo recordaremos las diferencias y similitudes auditivamente.
Esencialmente, el Pretérito perfecto simple muestra una acción pasada que comenzó en un momento dado. Sirve, por ejemplo para relatar una serie de actividades que realicé en el pasado:
ayer

caminé

, me

encontré

con un amigo,

fuimos

al cine, nos encontramos con otra amiga
También, cuando realizamos algo por una cantidad fija de tiempo.
estudié

música cinco años

fui

a ese teatro tres veces
El imperfecto, indica una acción pasada como ocurriendo, como durando, y no especifica que la acción finalizó. Uno de los usos de este verbo es mostrar una acción que ocurría mientras otra comenzó:
ayer

caminaba

cuando me encontré con un amigo. Cuando

íbamos

al cine nos encontramos con otra amiga.
él

dormía

cuando ella llegó.
En este caso podemos traducir al inglés usando el pasado continuo: he
was sleeping
when she arrived.
Como el imperfecto no dice nada sobre el inicio o el fin de la acción, lo ocupamos cuando no estamos seguros si se realizó, o cuando no se llevó a cabo.
Mi madre

llegaba

hoy en tren a las 10

(aún no sé si finalmente llegó)

hoy

había

un matrimonio, pero se canceló
hoy

hubo

un concierto, pero se canceló.

❌
También, usamos el imperfecto cuando queremos decir que la acción se realizaba usualmente o repetidamente, sin especificar durante cuánto tiempo.
ella

iba

al parque frecuentemente

nosotros

corríamos

tres veces por semana
nosotros

fuimos

a correr tres veces por semana durante todo el año pasado
Hay todavía más detalles sobre el uso de estos pasados, pero lo dejaremos para un siguiente artículo.
Usa el pretérito perfecto simple cuando:
Enumeras acciones realizadas
ayer

corrí

,

bailé

,

canté

, y finalmente

descansé
Realizas algo un tiempo determinado
jugué

fútbol durante 10 años
Usa el pretérito imperfecto cuando:
Describes una acción que transcurre
No sabes si la acción se realizó
me dijeron que maría

partía

a las 10
había

un concierto pero lo cancelaron
La acción se realiza usualmente o se repite
siempre

ayudaba

a la gente
Seguiremos profundizando sobre estos dos tiempos simples en un siguiente escrito, por ahora te recomiendo practicar estas frases, usando otras palabras, otras situaciones. Trata de ir "sintiendo" estas dos formas pasadas, leer y escuchar poniendo atención a qué pasado se está utilizando.
¡Nos vemos en la próxima!
Artigos que você pode gostar
The Future is not ours to see...
Pablo Palencia
5 de Setembro de 2018
A serie to watch to improve your Spanish
mikel Gallego
5 de Setembro de 2018
Learning Portuguese is not hard, the difficulty is not learn Portuguese
Rodrigo Santos
5 de Setembro de 2018