El desayuno latinoamericano
Para muchos especialistas en salud el desayuno es la principal comida del día y esto es fielmente seguido por muchos países en América Latina donde se aplica el viejo dictado "Desayunar como un rey, almorzar como príncipe y cenar como mendigo".
Sin embargo, a pesar de la importancia de esta comida no todos los países comparten el mismo menú. Esto se debe a la herencia étnica de cada cultura, al clima, a los recursos alimenticios disponibles y por supuesto al estilo de vida moderno de la gente.
Los desayunos en los países del cono sur (Argentina, Chile y Uruguay) se caracterizan por ser leves, donde lo más común es tomar un jugo, café o té y acompañarlo con diversos panes frescos o tostados locales como las famosas medialunas o las tostadas con mantequilla.
En Perú la situación es un poco diferente pues no solamente se toma café y jugo sino también una bebida llamada emoliente que está hecha con granos tostados de cebada, hierbas, jugo de limón y azúcar. Además de los panes, a los peruanos les encanta las yucas fritas, los tamales, las salchichas, sándwiches entre otros desayunos fuertes en especial los domingos.
En Colombia los desayunos son muy importantes a veces tienen la misma cantidad de un almuerzo, especialmente los domingos. Podemos encontrar desayunos colombianos con arroz, huevos, carne frita, chorizos, plátanos fritos, caldos de pollo, pescado, carne, tamales, las arepas entre otros. Todo siempre acompañado de una taza de café o de chocolate.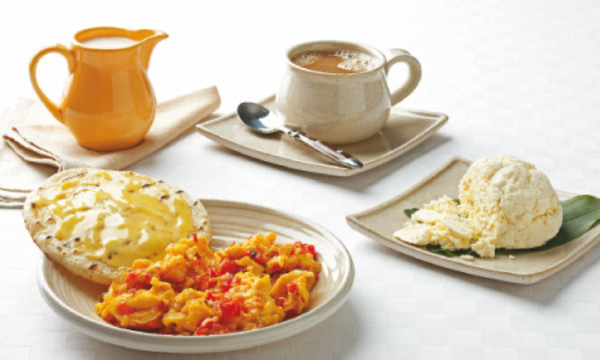 El desayuno el Centroamérica y en México también se caracterizan por ser fuertes para enfrentar la jornada matinal, podemos encontrar plátanos fritos, carnes, huevos, sopas y en México las populares tortillas rellenas de distintas formas.
En Brasil, otro país latinoamericano (pero no hispano) la palabra desayuno se traduce en portugués como "café da manhã" (café de la mañana) y es una comida leve y rápida. Los brasileños desayunan pan francés con mantequilla, café o jugo.
Como se puede ver, la variedad de desayunos en Latinoamérica es grande y la lista quedaría muy grande para describirlos todos. Esta variedad demuestra la riqueza de la culinaria y cultura de esta región que hacen.
Y tú dime, ¿Cómo es el desayuno en tu país? comenta. !Saludos!
28 de Janeiro de 2019
The 12 basic tenses in the English language.
Monique Strydom
28 de Julho de 2020
汉语多音字这样记- Learn Chinese homograph like this (1)
Shirley YANG
28 de Julho de 2020
Test Time | OMG! What Can I Talk About!?